Get In Touch Now!
Trusted Window Treatment Experts in Altamonte Springs
Locally-Sourced Blinds, Shutters, and Shades from Sanford Verticals
Sanford Verticals has been the go-to source for high-quality window treatments in Daytona Beach for over 30 years.
We offer a wide range of options to suit your needs and budget, including:
Horizontal blinds (wood, faux wood, aluminum)
Plantation shutters (wood, vinyl, composite)
Neolux shades
Motorized shades and window coverings
Our owners are committed to providing the best possible customer service and take a hands-on approach to all aspects of the business, from sales consultations to installations. Visit our photo gallery to see examples of our work and contact us to schedule your own consultation.
Our gallery showcases some of our completed projects, demonstrating our commitment to excellence in every project we undertake. Contact us today to schedule a free consultation with our team. We're available seven days a week and eager to help you find the perfect window treatments for your residential or commercial property. With Sanford Verticals, you can trust that your windows are in good hands.
Experience Our Diverse Selection Of Products & Services
Discover Our Unique Culture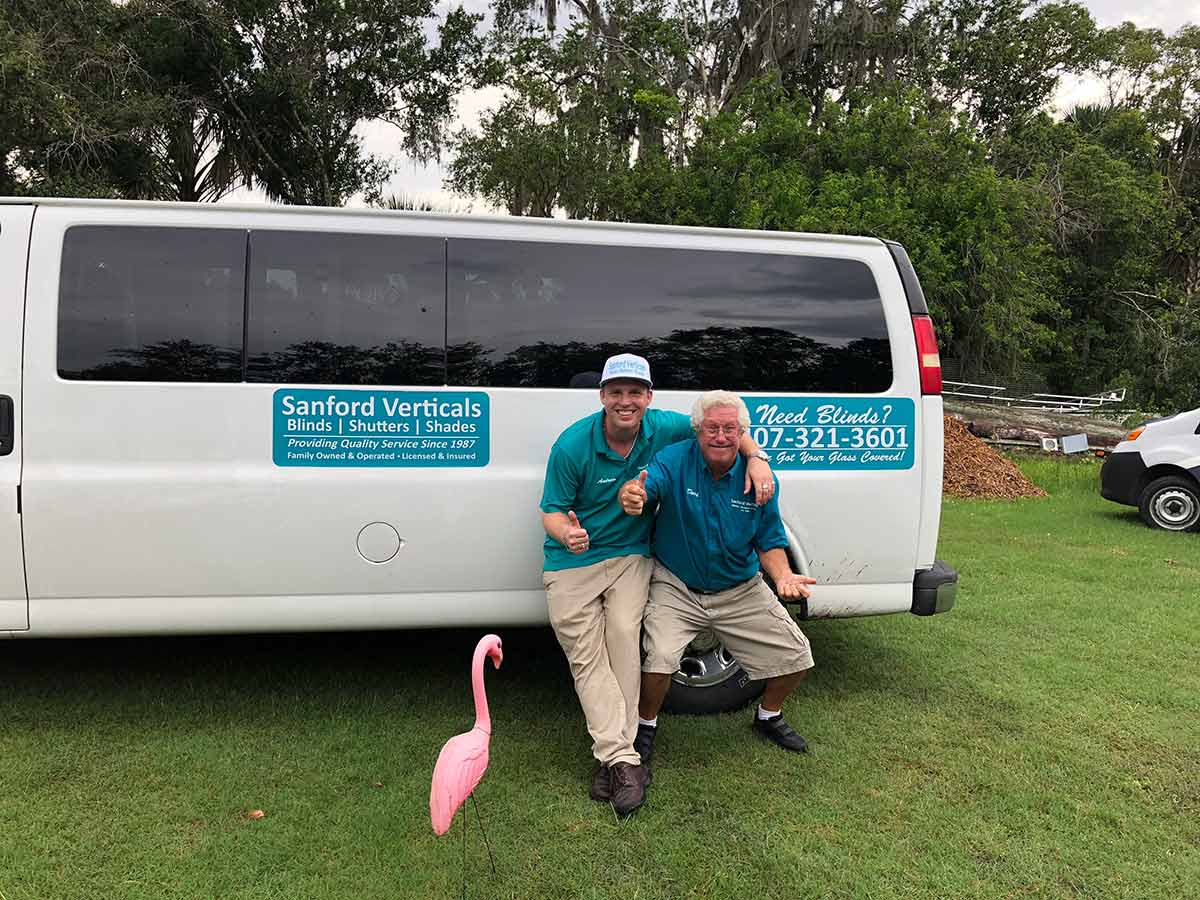 Sanford Verticals is a family-owned and operated window treatment company in Central Florida, with a strong commitment to providing excellent customer service and high-quality products. The company culture is built on the values of integrity, honesty, and hard work. The team is dedicated to creating beautiful and functional window treatments that will enhance the look and feel of any home, while providing a personal touch and a seamless experience for the customer. Feel free to navigate our service area map in Central Florida.
The company is also focused on fostering a supportive and collaborative work environment. The team is composed of skilled professionals who work together to achieve common goals and to provide the best service to their customers. The company prides itself on being a reliable and trusted source for window treatments in the Sanford area and they are dedicated to meeting the specific needs of each customer.
Our culture is one of quality, dedication, and customer satisfaction. We strive to provide exceptional service and high-quality window treatments, while fostering a positive and supportive work environment.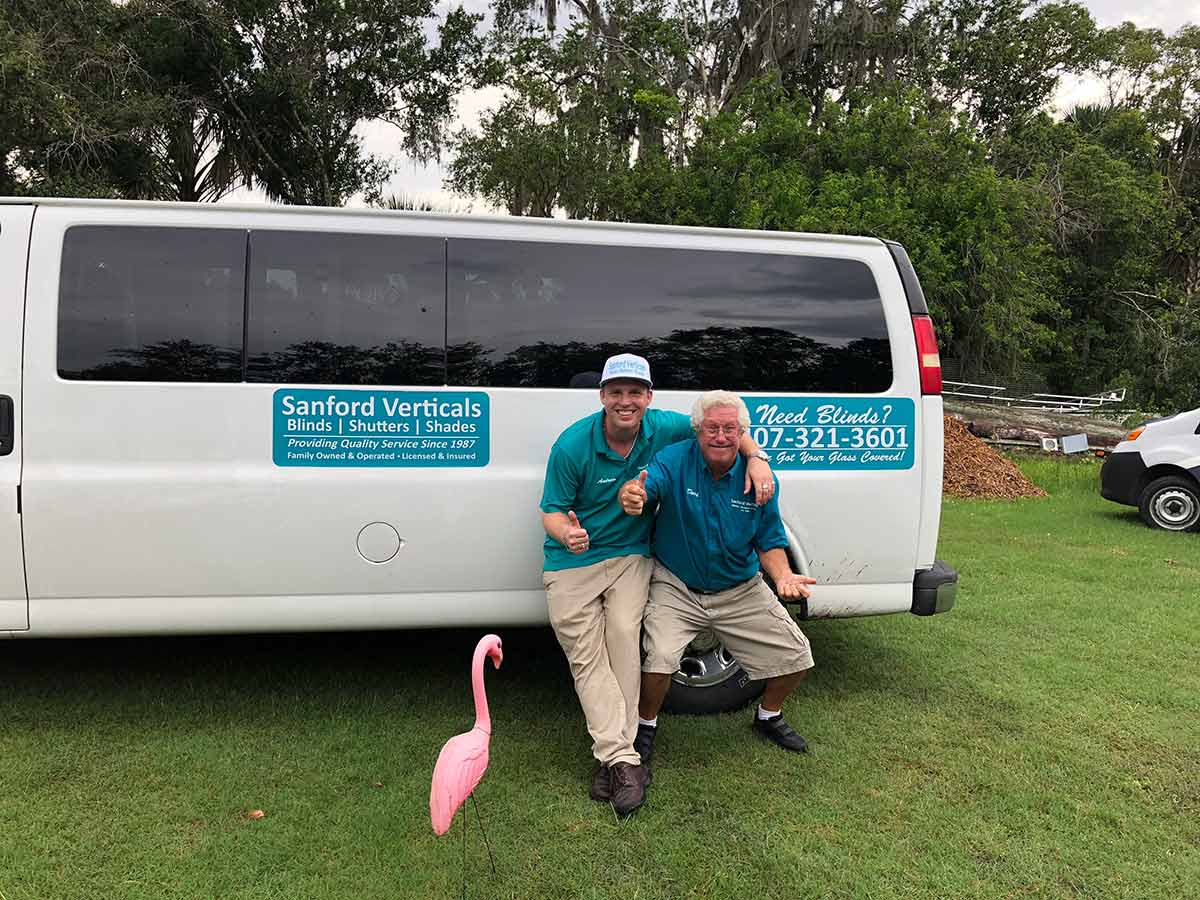 Stay Up-To-Date With Our Latest Blog Articles
Testimonials
5.0
Based on 300+ reviews - See all reviews

Installation was quick, prices were competitive and service was great! My new blinds look fantastic!

Davia Moss


February 16, 2023

Andrew was prompt and professional and walked us throw all of the blinds options and helped us pick out the right ones for each window. He was never pushy and... read more always had our interest top of mind. I also like being able to reach out to them for any other needs post-install.

Max VelDink


June 27, 2023

Very professional experience. Arrived on time. Discussed all possible options and helped us make the right decision. Product and installation were both awesome. Highly recommended

john Valentine


February 16, 2023

Amazing work done! Andrew, you guys did a great job and got us what exactly we were looking for. Very well knowledge and perfectionist. I'm so glad we went with... read more you guys! Definitely will be recommending you guys! 10/10

Jay Patel


December 16, 2022

We were referred to Sanford Verticals by friends we can trust and they did us right. From our first visit with Andrew, through installation and follow up, their service was... read more excellent. Andrew was informative and patient with us as we decided what was best for our needs. He anticipated our questions, answered them simply and helped us greatly through a decision process we weren't really looking forward to. We can highly recommend Sanford Verticals to anyone.

Willson McBurney


May 26, 2023

Excellent service! Family owned business with years of experience. Courteous, knowledgeable and professional. Our living room looks better!

Fulleriffic


March 16, 2023

These gentlemen called to say they could come early. That's right early, in Florida. They are experts in their field. Have no fear calling Sanford Blinds. You will be... read more delighted!

Linda Rinner


March 16, 2023

Thank you Sanford verticals and to you Andrew for an amazing job you have earned my business for sure thanks again for everything.

Maria Domingues


June 27, 2023

Great people to work with. I recommend them to all my customers and they do excellent work!

Sanford Carpet and Flooring


April 16, 2023

Struck out at the big box stores Sanford verticals had everything we needed Jim was great to work with highly recommend

Paul B


April 16, 2023

Hollie Rea


February 16, 2023

Excellent service and quality product!

Laura Headley


June 2, 2023

Great job! Made it super easy to decide which shutter was best for us. Done in a timely manner and reasonable.

Roberts Gidget


July 12, 2023

Came out same day I called, measured my windows, came back in 2 hours and installed 4 double windows with vertical blinds. Pleasant, helpful and very courteous. Explained the process... read more in detail. This company has my 5 stars of excellents

Sammy G Ginicola


February 16, 2023

Andrew and James of Sanford Verticals did a PHENOMENAL job installing our plantation shutters. They were professional, gregarious, and courteous. They stuck to the timeline they gave us,... read more and their expertise was evident in their attention to finite details. They have earned a repeat customer who will recommend them again and again. Their motto is, "Leave it better than how you found it." Mission accomplished! Rod and Kelly.

Rod Williams


May 26, 2023

Excellent service and a very professional team, love the way they took care of the minimal things. Highly recommend it, my husband and I are tremendously happy with our shutters,... read more our house looks so beautiful, thank you Andrew and Jim 😍.

Rosita D'Martínez


March 27, 2022

Andrew and James are the best, they furnished and installed plantation shutters in our new home and we are very pleased. We highly recommend them!

Jay Dougherty


May 16, 2023

Andrew came out to measure all 17 windows and gave us a quote. A couple of weeks later, he and Jim came to install our plantation shutters. OMG, they are... read more amazing! Beautiful quality blinds! Perfectly installed! They look amazing! Highly recommended if you need window treatments! On time. Professional, courteous, and just excellent installation!!! My windows look fantastic!!!

C S


February 16, 2023

Sanford Verticals did a great job. The plantation shutters they installed really added to the look of our home. Highly recommend this company.

Jackie Hamm


February 16, 2023

It was the best decision we could have made in using Sanford Verticals. Our home looks great and the team at Sanford Verticals made this process effortless. They... read more are honest easy to work with and even better, great value for the price. They are a five diamond company.

Regina


February 16, 2023

Honest and expert service. Came for an estimate on replacing a blind and offered to repair it without me even asking. Repaired it at no cost even though I offered... read more to pay. Honest about the costs and look of other blinds and shutters I was considering. Couldn't ask for kinder, honest service. Highly recommended!

Info Account


April 16, 2023

We are very happy with our blinds. Andrew and his team were excellent and very professional. They came out beautiful. I can't say enough good things about this company. If... read more you are in need of any type of blinds or shutters, give them a call. You will NOT be disappointed as there work is excellent.

Karen Patrick


July 11, 2023

The entire experience with Andrew (Owner) and Sanford Verticals from the first meeting to completion of the project is A++. They are professional, courteous, and dependable. They deliver quality and... read more value and exceeded our expectations. We are so happy with how our shutters look. Save yourself time and headaches and just give Andrew and Sanford Verticals a call for your window coverings project. They are worth every penny and truly separate themselves from the competition.

Mark Cortes


February 27, 2023

Andrew and his team provided excellent service for our window blinds project at home and great customer service. They even provided spare accessories. Kudos!

Sandeep Janwadkar


May 16, 2023

Loving our new shutters'. Great service, quality, and price! Our home feels even more homier!! Thank you for making our home beautiful

Grace Galarce


June 9, 2023

Very pleased with the work done. Would recommend them to all my friends. Thanks for a job well done.

Gradey Roberson


June 9, 2023

I had just purchased a new house in Florida and I had Sanford verticals come and do my windows. I cannot believe the awesome work they do. Everybody raves... read more about my blinds. The workers are so professional, fast and very friendly. I highly recommend them. You will not be sorry if I could give 10 stars I would. I will definitely use them again. Outstanding work.

Jeanne Lafauci


June 2, 2023

From the initial phone call through the consultation and installation, these guys were the personification of superb customer service, expertise, and professionalism. They care about the "details" and it shows... read more in the final results. I love my new plantation shutters!!! Thanks Sanford Verticals for making this a great experience. Bottom line, you cannot go wrong when choosing Sanford Verticals.

Leslie Gross


February 27, 2023

We have been very pleased with Sanford Verticals. We had plantation shutters installed almost two years ago and the process was a breeze. Sanford Verticals walked us through all the... read more different customizations for the shutters and the shutters look great. We get tons of compliments and they have withstood cats and toddlers. Recently we decided to replace the windows in our house so we called Sanford Verticals to help us navigate removal and re-installation of our current shutters. Their customer service is amazing and I will definitely use them again if we ever move homes.

Rachel Enot


March 13, 2023

Highly recommended!! Thorough explanations during the estimate process with my interests at heart. Showed up on time, on budget, with a perfect install. If I had more windows I'd use... read more them again in a heartbeat!

Christopher jette


April 16, 2023
Testimonials
Honest and expert service. Came for an estimate on replacing a blind and offered to repair it without me even asking. Repaired it at no cost even though I offered... read more to pay. Honest about the costs and look of other blinds and shutters I was considering. Couldn't ask for kinder, honest service. Highly recommended!

Professional Aquatic Services


April 18, 2023

My personal experience with Sanford Verticals has been exceptional. I have been using their services since 1992. David did my very first installation. I had the pleasure of working... read more with Andrew today and he is as great as his dad. I waited while they cut the verticals for me on the spot. I was in and out in no time. They are professional and most of all they care about their customers. Their prices are affordable and response rate is quick. My verticals look amazing. I will continue to use this company for future jobs. I highly recommend their service.

Yvonne Bradley


January 27, 2023

Came out same day I called, measured my windows, came back in 2 hours and installed 4 double windows with vertical blinds. Pleasant, helpful and very courteous. Explained the process... read more in detail. This company has my 5 stars of excellents

Sammy G Ginicola


February 16, 2023

Lessli Hernadez


May 19, 2023

Honest and expert service. Came for an estimate on replacing a blind and offered to repair it without me even asking. Repaired it at no cost even though I offered... read more to pay. Honest about the costs and look of other blinds and shutters I was considering. Couldn't ask for kinder, honest service. Highly recommended!

Info Account


April 16, 2023

Andrew and James are the best, they furnished and installed plantation shutters in our new home and we are very pleased. We highly recommend them!

Jay Dougherty


May 16, 2023

Very pleased with the work done. Would recommend them to all my friends. Thanks for a job well done.

Gradey Roberson


June 9, 2023

Exceptional service! Prompt! Friendly! Experienced! Talented! I needed new vertical blinds for my new townhome sliders and odd shaped windows and placed a call to Sanford Verticals. Andrew... read more and David at Sanford Verticals surprised me with super customer service. So often mediocrity is all the customer service that one can expect, but not so with Andrew. He was attentive, easy to talk to, accommodating to our needs and very helpful. Andrew and his dad, David, have been in the business for a long time and really know their stuff. Anyone who uses Sanford Verticals won't be disappointed.

StayTrue2


February 16, 2023